Tajik President Earmarks Thousands of Extra Jobs for Chinese Workers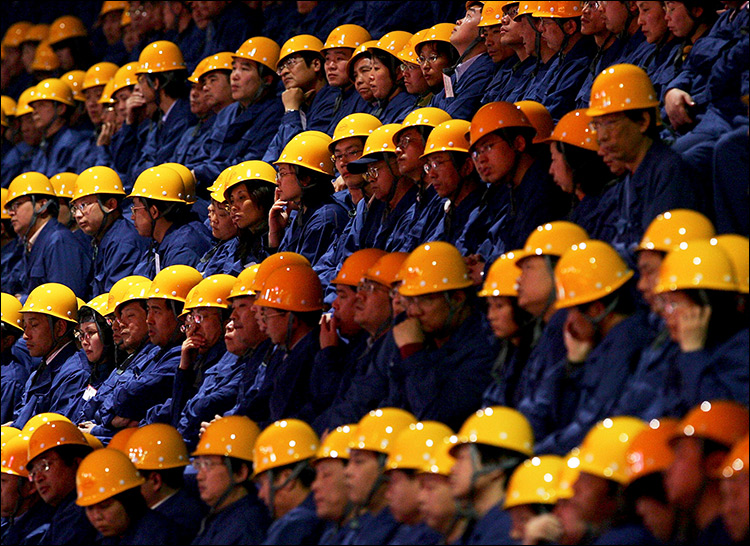 Chinese workers. Photo by www.Interpretermag.com
Tajik President Emomali Rahmon has adjusted the country's migration quota to allow in another 2,400 Chinese workers, Ozodi Radio reports referring to the Ministry of Labor, Migration and Employment.
Chinese workers will primarily work on the construction of the Tajik section of the Turkmenistan-China gas pipeline.
The quota for 7,500 of foreign workers previously introduced by the Tajik government will also be extended to cover Chinese citizens, says Moyonsho Mahmadbekov, the head of the migration department of the Ministry of Labor.
The Tajik section of the gas pipeline will run 400 km from the border with Uzbekistan through the cities and districts of Tursunzade, Gissar, Shahrinav, Rudaki, Vakhdat, Fayzabad, Nurabad, Rasht, Tajikabad and Jirgital to the border with Kyrgyzstan.
About 25-30 billion cubic meters of natural gas will be annually delivered from Turkmenistan to China through this pipeline. It is expected that the implementation of the project will attract more than $3 billion of Chinese investment into Tajikistan's economy.
China has already been the leader in direct investments in Tajikistan for several years. The main area of investment is the extraction industry of gold, silver and other metals. The Chinese are showing a particularly active interest in the development of metal deposits in the Gorno-Badakhshan Autonomous Region. Workers from China must participate in these projects as a mandatory condition for investment.
"With the funds allocated by the Middle Kingdom, Chinese companies are buying equipment and materials produced in China. The main work in the implementation of projects is carried out by Chinese specialists and workers. Thus, most of the allocated funds are returned to China. Tajikistan is still in debt, which must be returned with interest", Tajik economist Sodikjon Nosirov said, explaining the essence of Chinese investment.
On average, the annual growth of direct Chinese investment in Tajikistan is 55 percent, while investment in other states of Central Asia is also stable.
At the end of last year, China agreed to implement 15 projects in the agricultural sector of Uzbekistan, planning to allocate $500 million there.
Liu Yazhou, a General of the People's Liberation Army of China once said about Central Asia that "it is the thickest piece of cake given to the modern Chinese by the heavens."