Drivers of burned coach in Kazakhstan face up to ten years in prison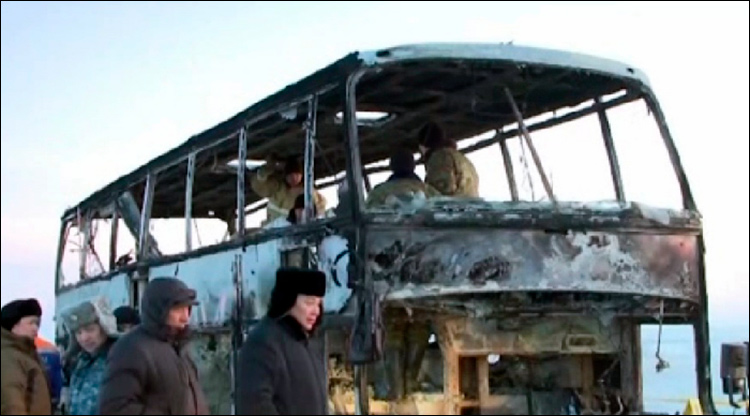 Burned coach. Photo by www.24.kz
On 26 January, Aktobe City Court has arrested all three drivers detained earlier on the fact of the death of 52 passengers in the coach fire. The court denied requests of all three detainees to be released on bail.
They face from five to ten years of imprisonment charged with traffic violation causing the death of two or more persons.
According to the investigators, passengers heated themselves with a blowtorch for several hours, reports Diapazon news website. As a result, the coach cabin was filled with a gasoline mixture. Someone accidentally spilt a container of gasoline, and a fire broke out.
The chief driver, 32-year-old Maksat Pernebekov, said that he was sleeping and was not behind the wheel at the time of the accident. 39-year-old Barat Tanatov was travelling as a passenger that day. 49-year-old Nurzhan Kyrgyzbayev was driving the coach.
Earlier in January, a fire on a bus claimed the lives of 52 passengers, most of whom were citizens of Uzbekistan, according to preliminary data. Five men - three drivers and two passengers - managed to escape, two of them sustained minor burns. The tragedy occurred on the Samara - Shymkent highway in Aktobe province of Kazakhstan on 18 January. The coach was heading to Russia.