Tajik Prosecutor Refuses to Disclose Details of Case against Khairullo Mirsaidov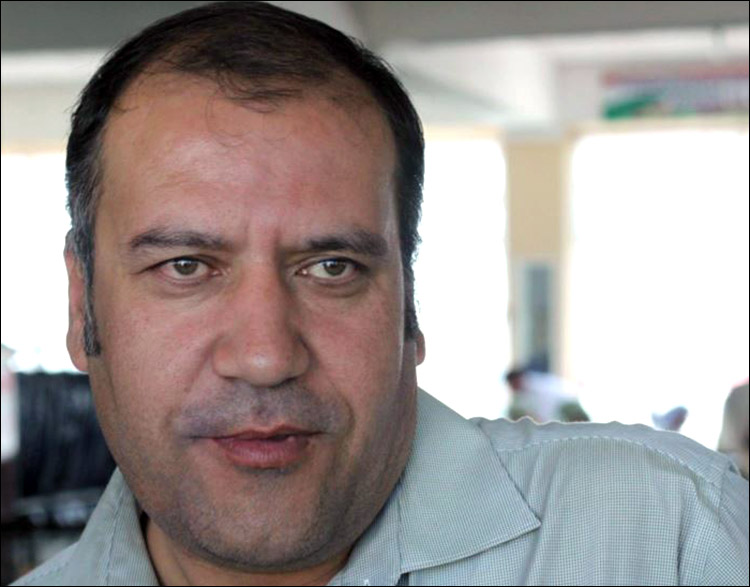 Khairullo Mirsaidov. Photo by Radio Ozodi
Khabibullo Vohidov, the prosecutor of Tajikistan's Sughd Region, has denied that the criminal case against journalist and comedian Khairullo Mirsaidov is classified, but he would still not provide any information before the investigation is completed.
"Time will tell whether Mirsaidov is guilty or not. We will certainly inform you about the results of the investigation", Vohidov underlined while refusing to reveal details of the case.
When asked about the grounds on which the case against Khairullo, Vohidov for inciting national, racial, local or religious enmity is built, the prosecutor replied that he already had "relevant materials some time ago" without going into further detail.
Until now, the motives of the incitement charges against Khairullo remain unknown. One can only speculate if they are connected with the journalistic activities of Mirsaidov or with the sketches of the KVN ["Club of Funny and Inventive People" Russian comedy TV show] team he led.
A few days earlier, a representatives of the KVN international movement defended Khairullo Mirsaidov noting in its open statement that the Tajik team "showed the audience Tajikistan as a country of educated and intelligent people with a sense of humor and a unique culture", and that the group's jokes have always been good-spirited.
Meanwhile, Khairullo Mirsaidov turns 40 years old today while in prison. Khairullo has built a reputation as a brave, honest and responsible journalist for nearly 20 years of his professional career. We hope that Khairullo will be cleared of all charges and released soon.
In November 2017, Khairullo Mirsaidov openly appealed to President Emomali Rahmon, Prosecutor General Yusuf Rahmon and Sughd Province Head Abdurahmon Kodiri and asking them to look into the problems his KVN team are facing due to the "corruption of Sughd Province officials." In particular, he accused the province's governor, Olim Zohidzoda, of attempting to pocket money that had been appropriated by the regional government to buy microphones for the Tajik KVN team himself. In response, Zohidzoda accused Mirsaidov of misusing of budgetary funds.
On December 05, Khairullo Mirsaidov was asked to testify in the Prosecutor's Office of Sughd Region. On the same day, he was detained and put into custody upon a court order. Currently, Khairullo is in Khujand SIZO-1 (a pre-trial detention center). He has been charged under four articles of the Criminal Code of Tajikistan - misappropriation or embezzlement (Article 245), incitement of national, racial, local or religious hatred (Article 189), forgery of documents (Article 340) and knowingly false denunciation (Article 346). In total, Mirsaidov may face up to 21 years in prison.
According to the Sugd Province Prosecutor's Office, Mirsaidov caused damages to the state amounting to 300 thousand somonis ($ 34 thousand), Asia Plus reported. A source in the Sughd Regional Administration had earlier told the news site that there could have been no criminal case against Khairullo if the journalist had not publicly made "unsubstantiated" statements about extorting bribes from Zohidzoda.
Khairullo Mirsaidov previously worked with Deutsche Welle as a radio correspondent, Asia Plus news agency and collaborated with various publications, including Fergana News.
Earlier, Human Rights Watch (HRW) and the Norwegian Helsinki Committee demanded that the Tajik authorities ensure Mirsaidov's rights, including freedom from ill-treatment and access to a lawyer, and speed up the process of his release. The International Committee to Protect Journalists and the Coalition Against Torture in Tajikistan also called for the release of Khairullo Mirsaidov.