Turkmen Athletes Simultaneously Arrested for Doping
In Turkmenistan, several athletes who competed in the 5th Asian Indoor and Martial Arts Games have been detained and convicted, Azatlyk Radio reports, referring to its sources. They were accused of the use of illegal drugs.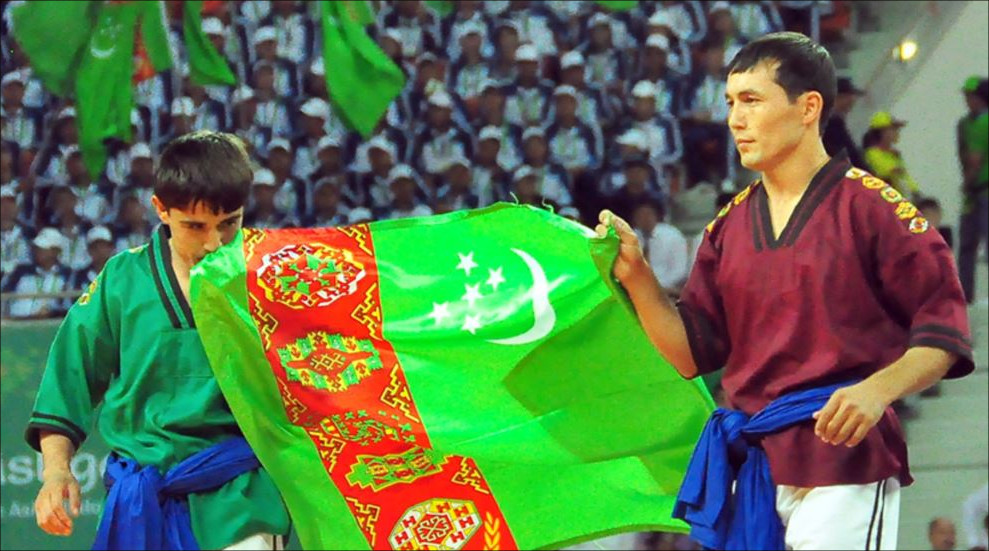 Turkmen athletes. Photo by Azatlyk Radio

At least four athletes who had competed in various wrestling categories were convicted. According to sources, one of them is Ali Allaberdyev (belt wrestling). At the tournament, he won a bronze medal. "During the games, several Turkmen athletes have been caught with doping," a source in Turkmenistan's Ministry of Internal Affairs said. "They were put in jail. Everyone talks about athlete Ali Allaberdiyev. He was given 12 years in prison."
An acquaintance of the athlete suggested that he had started doping because of an injury and had been forced to participate due to pressure from the authorities.
"Ali has always been successful at international competitions. He has perfect training. But during the games [Ashgabat-2017] he could not stand the pressure of the authorities mentally, the heavy workout and various mass events," the source said. "Despite his severe left-hand injury during the training, Ali was forced to compete. Perhaps he could not stand it and used doping."
Another athlete, according to unconfirmed reports, was sentenced to nine years in prison. His name, like all of those arrested, remains unknown.
The authorities have not confirmed this information officially. Sports organisations where journalists turned for explanations refused to comment.
Meanwhile, the head of the State Committee for Sports, Toyla Komekov, and Deputy Prime Minister for Sports, Sapardurdy Toiliyev, have resigned after the news broke about the conviction of the athletes. Komekov was dismissed by a presidential decree "in connection with a transfer to another job" on January 25.
Shortly before that, on January 11, Turkmen President Gurbanguly Berdimuhamedov received a letter from the head of the anti-doping agency (WADA), Craig Reedie. The official Turkmenistan Today news agency reports that he congratulated the country on its victories in the Asian Games and also offered assistance in the development of the national anti-doping programme.
Azatlyk Radio reported on the visit of Reedie to Turkmenistan on January 11 although officials did not mention this date in their chronicle.
It also remains unknown whether the punishment of athletes relates to the contacts of WADA with the leadership of Turkmenistan.
The 5th Asian Indoor and Martial Arts Games were held in September 2017 in Ashgabat. According to Azatlyk Radio, the country spent at least seven billion dollars on organization.
Human rights activists noted that the preparation of the tournament was accompanied by numerous infringements on the rights of citizens.
At the games, Turkmenistan won first place; its athletes won245 medals in total, including 89 gold medals.