Kazakh Law Enforcement to Regulate Beards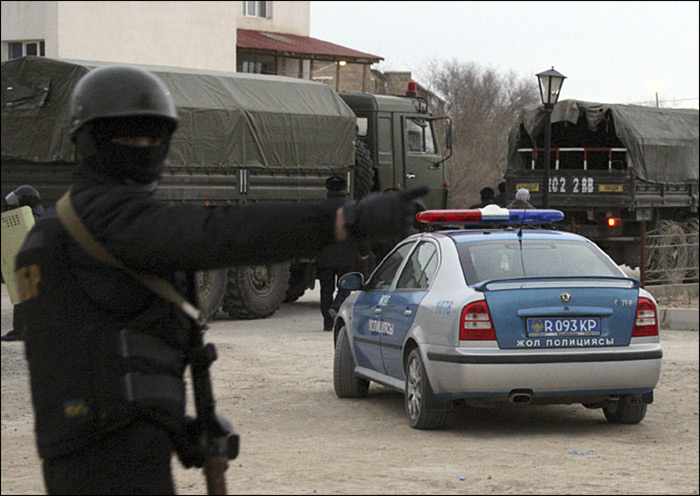 Kazakh police officers. Photo by BBC
In Kazakhstan, police officers and the National Security Committee (KNB) will look for radicals using a set of criteria that, under a new law, will also include the length of the beard, informburo.kz quoted Nurlan Yermekbayev, the Minister for Religious Affairs and Civil Society as saying.
According to the official, a new bill amending existing legislation will introduce a definition of a "destructive religious movement". When enforced, the law would determine both external as well as ideological and psychological characteristics of radicals.
"Preaching intolerance, clothing that covers the face, a characteristic beard, shortened trousers. Special expertise would determine whether this is a sign of destructive religious movement or not," the minister specified.
He further explained that the bylaw would describe these signs in detail. "In this regard, the length of the beard would, if necessary, be included. It's not about any beard; it's not about the clergy. It is only about those who, according to experts, adhere to destructive religious movements. Apart from these external characteristics, what they say and propagate will also play a role. Like this, we are making sure that there won't be any indiscriminate persecution," Yermekbayev added.
He continued to point out that police officers will be able to approach a suspicious person and notify him of the violation. If there are more signs of "radicalism" the officer would be able to pass the materials on the suspect to judicial authorities for issuing a warning or a fine. The relevant authorities would then keep track of such warnings.
The bill also includes language to change the competences of some state institutions. If the draft law is approved, the authorized body will have the right to look closer into the activities of religious associations. Law enforcement was able to do just that previously as well, but the new law would create a formal and explicitly legalized process.
The bill also suggests that the police will be officially able to set up surveillance of citizens who appear suspicious to them. If the authorities establish that an individual could inflict serious harm, they will be able to register that fact and launch an investigation.
In February 2017, Kazakhstan already developed a manifesto for countering religious extremism and terrorism for 2017-2020.
As Fergana News reported, there were 554 cases of extremism charges in local proceedings of which 241 reached trial in 2016. This is according to data of the Committee on Legal Statistics and Special Accounts of the Prosecutor General's Office of Kazakhstan. There were fewer cases in 2015 - 317 under investigation and 113 heard in court. The defendants, often found themselves imprisoned even though the investigation failed to produce any substantive evidence of guilt.