Tajik Ministry of Justice Finds no Political Prisoner in Republic's Jails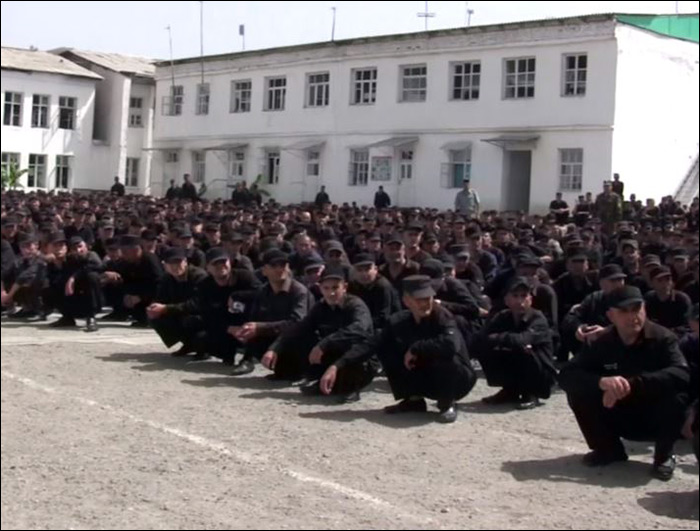 Prisoners in Tajikistan. A shot by local TV television on the Ozodi Radio website
Over 10,000 prisoners are held currently in jail, pre-trial and preliminary investigation institutions in Tajikistan. Among them are 321 women and 47 minors, Asia Plus reports, citing Justice Minister Rustam Shokhmurod.
According to the official, there is no such category as "political" among prisoners, as the law does not foresee such a concept.
"Besides, there is no authority that could determine the category of political prisoners. Our prisons contain inmates who committed crimes and were convicted in accordance with our Criminal Code," the minister continued.
Meanwhile, Human Rights Watch ascertained that the persecution of opposition members in Tajikistan again worsened last year.
"Authorities' use of torture to obtain confessions remains a serious concern. In 2017, the government continues to block various websites with information critical of the government, subject human rights groups to harassment, including a law requiring non-governmental organizations (NGOs) to register all sources of funding from foreign sources, restricts media freedoms, and has enforced serious restrictions on religious practice," human rights activists wrote. According to their estimates, at least 150 political activists and their lawyers remain in Tajik prisons, including on trumped-up criminal cases.
Last July, HRW stated that the authorities of Tajikistan are harassing the relatives of ten opposition members who took part in a conference in Germany on July 09, 2017 as payback for them speaking out against the authorities.
"The Tajik government's vicious campaign of intimidation against dissidents' relatives is widening and becoming ever more brazen. The simultaneous actions by security services and local officials across numerous cities suggest a policy of collective punishment sanctioned at the highest levels, which should end immediately," Steve Swerdlow, who represents HRW in the countries of Central Asia, said at the time.
Among those persecuted for political reasons, according to human rights activists, are activists of the Islamic Revival Party (PIVT) that was banned in Tajikistan as well as their relatives. PIVT was the only officially registered Islamic party in Central Asia.
In Tajikistan, it was considered an opposition force. According to official data as of July 2014, PIVT had about 40 thousand members. Some of its activists were forced to leave the country after the party had been banned. A number of those who stayed in Tajikistan were subsequently imprisoned.