Fergana News Journalists Win Sakharov Award for Courage
On January 31, 2018, a number of journalists have been awarded with the Sakharov Order for Courage in Moscow, which the jury bestows upon journalists and human rights activists who are currently serving prison terms or have been detained in the past.
Fergana News had a bitter honor to receive the Order for Alisher Saipov, who was murdered in October 2007 in Kyrgyzstan's southern regional center of Osh and for Hayotkhan Nasreddinov, who since October 2017 is being held in a detention center of Uzbekistan's security services and about whose fate we know almost nothing: Hayotkhan is not allowed access to a lawyer or to see relatives.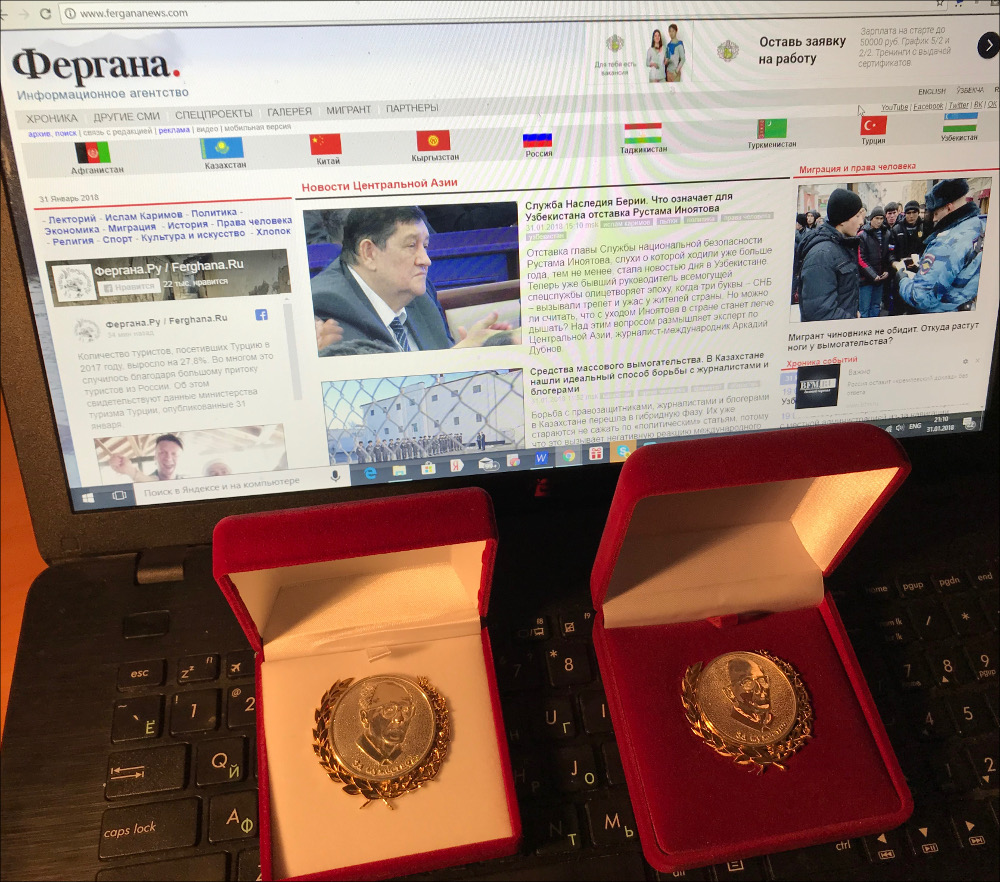 Fergana News keeps awards in its office and will pass it to the relatives of the awarded recipients as soon as possible

Hayotkhan Nasreddinov, 48, is a blogger, journalist, human rights activist and teacher. As an economist, Nasreddinov published numerous articles on banking issues and taught economics at a Tashkent school in recent years. Since May 2010, he has collaborated with Radio Liberty and contributed over thirty columns there.
From 2012-2013 he contributed to foreign media outlets and cooperated with Fergana News as a freelance writer.
Hayotkhan was arrested on October 20 for reasons still unknown. Neither have his relatives been able to speak with him. Furthermore, apparently, they are under pressure not to communicate with journalists. It has been reported that Hayotkhan also refused a lawyer his relatives hired to represent him. Currently, SNB is holding him in its custody on Tashkent's Gvardeiskaya Street.
Fergana News will keep the Order for Courage of Hayotkhan Nasreddinov: we very much hope that the change at the top of the National Security Service of Uzbekistan will lead to the release of many political prisoners, including Hayotkhan Nasreddinov and Bobomurod Abdullayev.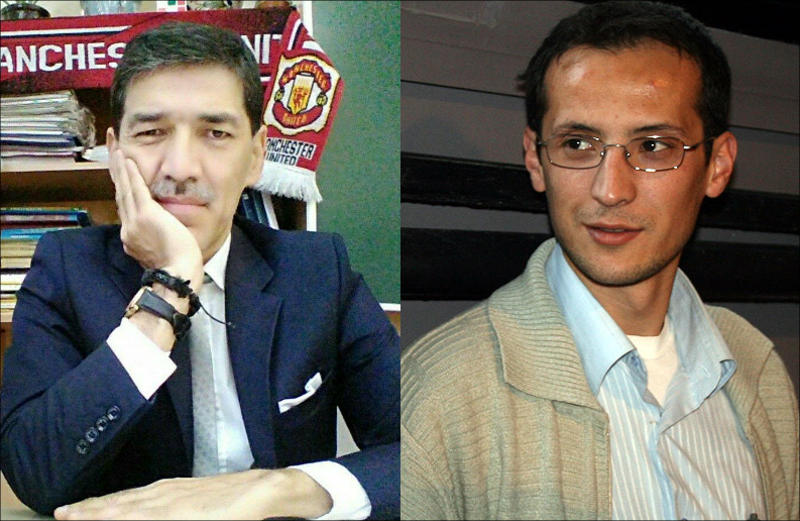 Hayotkhan Nasreddinov (left) and Alisher Saipov
Alisher Saipov was murdered on October 24, 2007; an assassin shot him on the street when Alisher was catching a taxi. There were three shots: one bullet hit the leg, two more - the back of his head. The murder remains unsolved so far.
Alisher was killed for journalism. He covered the very beginning of the March Revolution in 2005 in Kyrgyzstan and spoke about the consequences of the Andijan tragedy in Uzbekistan. Alisher worked as Fergana News correspondent, cooperated with Voice of America and Radio Liberty and wrote for other publications as a freelancer. He established and led the Siyosat (Politika) newspaper shortly before his death. The edition published in Uzbek quickly gained popularity in the south of Kyrgyzstan.
Sharp materials criticizing the regime of Islam Karimov stirred interest in neighboring Uzbekistan where readers could smuggle the paper. According to rumors, a $10,000 bounty on Alisher Saipov's head was promised a potential killer.
We will pass the Order For Courage on to the parents and daughter of Alisher at the first opportunity. A museum dedicated to the life and murder of the young and prominent journalist Alisher Saipov opened in the southern capital of Kyrgyzstan, Osh city, and the order will take its worthy place in the exposition.