Former Head of Security Service of Uzbekistan Granted Immunity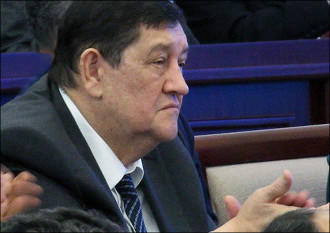 Rustam Inoyatov. Photo by Sputnik
A decree by Uzbek President Shavkat Mirziyoyev appointed Rustam Inoyatov, the former head of the National Security Service (SNB) as member of the Senate of the Oliy Majlis (upper chamber of parliament) on January 31, the official website of the country's president said.
Earlier on the same day, the Uzbek president had removed Inoyatov from the post of the SNB chief and appointing him as the State Advisor to the President on political and legal issues.
With his appointment as a Senator, Inoyatov is now enjoying immunity under the law and cannot be held criminally prosecuted, detained, arrested or subjected to administrative penalties imposed by judicial procedure without the consent of the Senate, and in the period between sessions of the Senate - without the consent of the Senate Kengash [Council].
Rustam Inoyatov, 73, led SNB for more than 22 years and was considered one of the most influential figures in the Uzbek establishment under President Islam Karimov.
Inoyatov is one of eight high-ranking Uzbek officials who in 2005, after the tragic events in Andijan, was barred from entering EU countries as part of the Union's sanctions against the leadership of Uzbekistan.
Until recently, Inoyatov's position was considered secure; he was at one time even regarded as one of the most likely substitutes for the first President of the country, Islam Karimov - the peaceful transfer of power to Mirziyoyev in 2016 was then interpreted by many observers as the result of some internal agreements between the current head of state and the SNB chief.
Meanwhile, the media at times ran stories that Inoyatov was associated with a growing business empire in addition to heading the SNB.
Earlier, after coming to power in the autumn of 2016, Mirziyoyev almost completely reshuffled the government's power block. He most notably replaced the head of the Ministry of Internal Affairs two times. As a result, in September 2017, Pulat Bobojonov was appointed Minister of Internal Affairs, and Abdusalom Azizov as Defense Minister.
The SNB was established in 1991 for the purpose of intelligence and counterintelligence activities in the interests of Uzbekistan and the fight against organized crime. However, as Shavkat Mirziyoyev admitted in December 2017, the SNB powers had been expanded further without legal basis.
Today, the President said that the special service must stay within their competences to assist both the population as well as other state institutions with the implementation of reforms. He stressed that the SNB must adhere to the principle "not the people serve state authorities, but state authorities serve the people".
Mirziyoyev highlighted the importance of adopting a reform bill for the SNB in 2018, which, according to him, will define the main duties and tasks of the National Security Service, and delineate the powers of the law enforcement agencies.
Fergana News Agency