Central Asians Make up Half of Registered Foreigners in Russia in 2017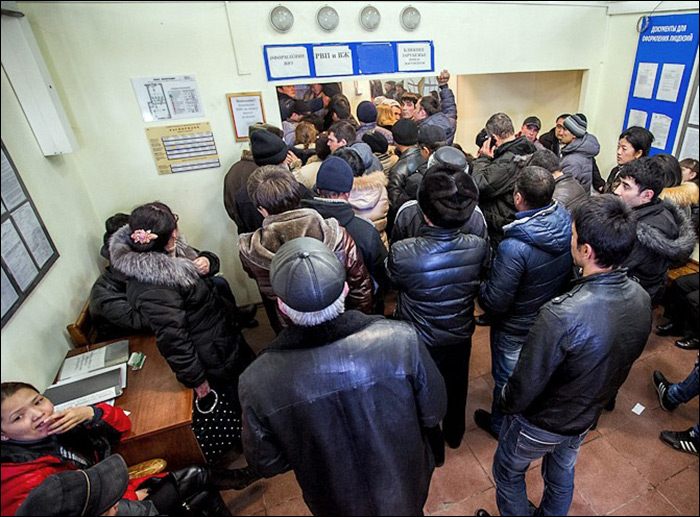 Foreign citizens in one of the migration departments of the Ministry of Internal Affairs of the Russian Federation. Photo by Newsvl.ru
In 2017, Russia's federal authorities have registered more than 15.7 million foreign citizens arriving to the country, about 7.7 million of which were from Central Asian countries.
Of the total number of registered foreigners, 4,082,377 people were citizens of Uzbekistan, 587,728 of Kazakhstan, 879,575 from Kyrgyzstan, 2,106,256 from Tajikistan and 74,225 people from Turkmenistan according to the website of the Main Directorate for Migration of the Interior Ministry. However, these statistics do not include all foreign visitors to Russian Federation, only those registered in with the Migration Service.
Among the Central Asians, 1,822,933 Uzbeks came for work, just as 88,202 Kazakhs, 376,863 Kyrgyz, 936,752 Tajik citizens and 1,951 Turkmens.
36,469 Uzbeks, 13,553 Kazakhs, 7,572 Kyrgyz, 40,887 Tajiks and one thousand Turkmens received temporary residence permits while 18,605 Uzbeks, 13,553 Kazakhs, 4,986 Kyrgyz, 19,563 Tajiks and 1,021 Turkmens were issued full residence permits.
Russian citizenship was acquired by 23,334 Uzbek citizens, 40,718 Kazakhs, 8,777 Kyrgyz citizens, 29,039 Tajik citizens and 729 Turkmen citizens.
In 2017, foreigners, including visitors from Central Asia to Russia, have been issued 1,682,622 patents and 148,326 work permits (in 2016 - 1,510,378 and 149,013 respectively).
The Russian authorities denied entry 210,708 foreign nationals entry, whereas the year before, the number stood at 229,013 (there are no statistics on the exact numbers for each country).
Fergana News Agency