Uzbekistan: Parliament speaker dismissed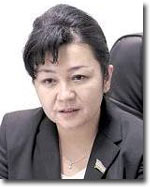 Dilorom Tashmukhamedova
Uzbekistan's parliament speaker resigned Wednesday, apparently after a scandalous trial that involved his son, an independent online publication said.
Erkin Khalilov's resignation on Wednesday follows a trial where five teenagers were sentenced from nine to 16 years in prison after they assaulted his son Sherzod, Uzmetronom said Tuesday. Human rights group Esguliq said the sentences were unusually harsh due to the pressure from the father.
Khalilov was replaced as Parliament speaker by Dilorom Tashmukhamedova, who was one of the three government loyalists fielded for the December 23 presidential elections to run against President Islam Karimov. Tashmukhamedova is the first secretary of the Adolat party Political Council, and her presidential campaign was seen as an attempt to create an illusion of choice.
The Parliamentary press service has not commented on the issue. Khalilov's resignation was anticipated since last autumn, independent Web site Uznews.net said referring to an unnamed source in the presidential administration.
Sherzod Khalilov was assaulted by five teenagers in December 2006. Two of the offenders were under 16, the other three were university students.
According to court proceedings quoted by the Esguliq group, the assaulters angered by Khalilov's arrogant behavior "criminally conspired" to rob him.
The assault teenagers met with Sherzod Khalilov on December 13, 2006. According to the witness testimony, one of them, Timur Nurmetov, punched Khalilov in the forehead. Sherzod's scream scared the boys, who ran away and took nothing from Khalilov.
A criminal case was opened five days later, and the five were charged with assault, robbery and anti-social behavior. Two month after the accident, a medical examination concluded that
Khalilov suffered a concussion and had bruises, but the injuries were characterized as "light." Sherzod did not miss a day at school after the assault.
In May 2007, the court sentenced Timur Nurmetov to 16.5 years in jail, Davron Akhmetov and Shohrukh Alimov to 16 years, Azamat Jalilov to 15.5 years and underaged Rikhsiev to 9 years.
They were sent to the notorious Jaslyk prison in western Uzbekistan, where thousands of political prisoners are believed to be held in harsh conditions.
The boys' parents appealed to the Tashkent city court that reduced the punishment.
The Supreme Court of Uzbekistan revised the case and reduced Nurmetov's sentence to 5 years, Rikhsiev's to two years and the other three were sentenced to four years. They were transferred from Jaslyk to other prisons.
A source in Uzbek Parliament told Ferghana.Ru that Erkin Khalilov would be stripped of immunity to criminal charges.
* * *
New Chairwoman of the Legislative House Dilorom Tashmukhamedova was born in Tashkent province in 1962. She had been an Uzbek lawmaker from 2001 till 2004. Later, in 2004 she was reelected a member of the new two-chamber Parliament. Dilorom became the first secretary of Adolat Socil Democratic Party's Political Council and chaired the party in Parliament later. She was appointed deputy speaker of the Legislative House in 2007.